Where is your office located?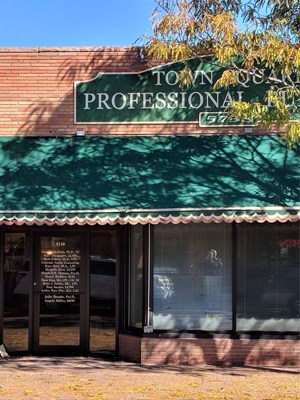 My office is in Olde Town Arvada.
5738 Olde Wadsworth BoulevardArvada, Co 80002
I am one of several therapists in the Town Square Professional Building. It has a green awning out front, and my name is on the front door. The building is next to the big square where there is a fountain in the summer and across from the German bakery.
Where do I park?
Parking is on the street. There is also a parking lot around the block and across from the public library. There is one parking spot for people with disabilities in the small lot behind our building. Please don't park in the other spaces behind the building; these are reserved for the clinicians.
I've never done this – how do I get started?
Fill out a contact form or call me directly. We will then chat on the phone or over email, and I can answer any questions you might have. Whether you have 1 or 20 questions, it's okay.
Do I check in or knock on your door when I get there?
No. We don't have a receptionist, and I might be in session with another client. Please have a seat in the lobby. I'll come out and meet you at your appointment time.
What if you're not the right therapist for me?
I will help you determine that in the first session. I don't want to waste time for anyone. Ethically, I'm required to refer you out if I do not have the experience or competence in a certain area.
Professionally it is just not satisfying for me to try to help people with things that I am not good at. Personally, it's just not fun. Periodically we will also review our progress. If things are not working, we'll find someone else for you to talk to.
What information will you need from me at first?
When your first appointment is scheduled, I will send you a link to the Client Portal. You are given a unique log-in (which you can change later), and this will connect you to paperwork which you can fill out and sign electronically online. I need to have this paperwork signed before your first visit. Feel free to call me if you have questions about the initial paperwork.
What if I don't know what to say?
Believe me, almost everyone feels this way at some point. Don't worry. Once we get started, it gets a lot easier. Even people who typically don't like to talk usually tell me "I don't know why, but I talk a lot more in here." And sometimes we're quiet and think; that is okay,too.
What is the first session like?
The first session (and all the sessions) are 50 mins to an hour long. I go over basic policies and procedures, discuss the opening paperwork, and then ask you a bunch of questions. I try to find out what is difficult for you right now and get some background information. There is time for you to ask me questions, and then we discuss goals and how we will start to work toward making things better.
How often do I come in to see you?
What I have learned from seeing hundreds of clients is that most people feel better and get better results when they come in to see me weekly – at least at first. This can be anywhere from 6 to 20 sessions.
For about half of people, then we taper off to every two weeks for a while, then every month, etc. We either resolve things along the way and agree to end sessions, or, if ongoing therapy is helpful to you, then we find a frequency that works best for you.
Everything is individually tailored to your experience. We are all different and unique and no "one size fits all."
Can I get in to see you tomorrow?
That's very possible, if your schedule is flexible. Generally I can see new clients within 2-3 business days (depending on your schedule). You may have called other clinics who have a long waiting list. There are three main reasons for this. 1) They charge less. I charge more, so have fewer clients. I'm ok with that. 2) I also don't like to see more than 20 clients per week. Therapy is amazing and rewarding and I love what I do, but I put my heart and soul into it and that takes a lot of energy. I need time to recharge. However, because I purposefully schedule fewer clients, I usually can make time for new clients.  3) I do see people long term, but 80% of my work is short term, goal oriented. We solve problems, help you feel better, improve your life and you move on without me. I always tell new clients, "my goal is to put myself out of business".  Of course, people return to therapy from time to time and that is ok, but in general I see people 8 – 15 times and then they are done. My plan is never to see you every week for 4 years (although it happens, occasionally). 
If you go to my online scheduler and can't find an appointment that fits for you soon enough, give me a call, sometimes I can move my schedule around…
Does the building have Disability parking?
There are no stairs, and there is a ramp at the back door. The doors are not automatic however; so let me know ahead of time, and I will meet you at the door if you need assistance. There is one parking space for people with disabilities at the back of the building. All other parking in the back parking lot is for clinicians only.
How long does this therapy process last, how many sessions?
It is different for different people. Most people see real results in 12 sessions. Some people see me for just a few sessions, and they are done. Some people see me weekly for years.
We will create goals, review goals, and it is always up to you how long you stay. Some see me for 8 or 10 sessions on and off when needed. Some people see me every two weeks, or once a month for ongoing support. Some people see me 23 times and then never come back.
Do you take insurance?
I used to, for many years. I don't anymore.
Here's the main reason why: I began to realize that the people who got the most out of therapy were the people who paid out of pocket. People feel better, change more quickly, and find the process more fulfilling when they are invested in it.
It boils down to: "If I'm paying, I'm going to work at this." The work pays off. There are additional reasons why I began to feel the insurance industry did not have your best interests in mind: privacy concerns, higher deductibles, intrusive audits, time-consuming billing that took energy and time, and reimbursement rates that have not gone up for providers for decades.
Do you have a "sliding scale"?
No. There are many providers that do, and I can refer you to one of them if that is needed. I find I do my best work and people are more motivated when they are paying my full fee. I realize that is not possible in every situation. I find other ways to give back to the community.
How much does therapy cost?
All services I provide are $150 per hour.  The average client or couple comes in for 8 to 12 sessions and schedules weekly, or ever other week. When you think about cost however, a reminder that the benefits of therapy are usually long term. This is an investment in your quality of life going forward, for the long term. If ten sessions "buys" you peace of mind, then what is that worth over ten years? Also, I have years of training experience and can help you address issues more effectively.  If you needed brain surgery, would you choose the cheapest brain surgeon?
Here are some other ways to think about paying for therapy and what it might be worth to you. 
What if you could pay go to the gym for 4 to 6 months and never have to go back? Six pack abs for life?!  Therapy can help you make this type of life long change for the strength of your mind.
What is being able to deal with stress and relax worth? What dollar amount would you put on increased happiness? Being able to sleep better on a regular basis without medication is worth a lot.  Being able to get through the day without dwelling on worries. Enjoying activities again – whats the value of all the life you've been missing?
What price would you put on your marriage? How much extra money do you spend each month because you can't communicate as a couple? What's it worth to be able to enjoy a vacation together? How much would you pay to be able to resolve arguments in a few minutes rather than going days without talking? What would it be worth to have your spouse be happy to see you at the end of the day? What is the value of agreeing about goals for the future? And, I hate to mention it, but you can't even put a retainer on a divorce attorney for the price of 6 months of marriage counseling.
If you are unhappy at work, how does that impact your work performance?  If you can't focus at work, you may get passed up for promotions. Coworker disputes can lead to firing. Maybe you're in the wrong career altogether? People tend to be happier and make more money when they find something they are passionate about. Counseling can help with job and career issues.
Decreasing stress can increase your overall health.  Stress does not cause all health issues, but not dealing with stress can often make health problems worse. Treating anxiety and depression makes it easier to have the motivation to be healthy. Cognitive Behavioral Therapy also focuses on helping people increase healthy behaviors.  Happier people tend to make healthier decisions.
How much money do you spend on booze or other distractions, because you haven't dealt with issues that are unresolved? Do you ever spend money on things you don't need, to try to make yourself feel better? How long does that feeling last? Do you ever spend money you don't have and find yourself with ongoing debt? What if you could deal with emotional issues that are causing all this, and stop these spending habits?
No, good therapy is not cheap up front, but if you think about the potential long term benefits, it can be well worth it.
What if therapy doesn't work?
There are no guarantees with therapy. Once we have started, I will do everything I can to help you achieve your goals.
I know you are taking a big step, things are difficult, and I am 100% committed to this process. 90% of what happens in therapy happens outside of the therapy session – what you do when you are not in the office makes a big difference.
The more you put into this, the more you get out of it. Sometimes we're not ready for therapy, sometimes I'm not the right therapist for you – again, I'll let you know if I think this is true for you.
I don't want to take medication – are you going to push that?
No. First, I am not a medical doctor; I can't prescribe medication. About half of my clients take medication, and it is helpful. Many people don't need meds, and that is okay, too. I'm a therapist because I know it works. Even when medication is helpful, there is no "miracle pill" – therapy can help with what you need to do to make things work.
I need a new prescription; I need my meds filled.
I'm not a doctor, I can't help you with this. I can refer you to several highly qualified psychiatrists or doctors who can help you with this. However, people who are on medication usually do better if they are also in therapy. I could help you with that.
I need a therapist to fill out my service animal form, so I can take my dog Fluffy on the plane next week. Can you write me a letter for that?
If you are a current client and have seen me for at least four sessions, I will consider writing such a letter. I don't see people for one session just for this purpose. If you are a current, ongoing client, and I think this is in your best interest, there is a separate letter-writing fee for that.
I am secretly planning on divorcing my spouse. If we come in for couples counseling, can I ask you to testify for me at the divorce/child custody hearing?
The short answer is "no." You will fill out a couples counseling consent form that specifically says that you agree not to ask me to do this. And you agree that if for some reason a judge does subpoena me at some point, you will pay my outlandish court fees. Also, your couples counseling chart/notes belong to both of you. I can't release them to anyone without getting written permission from both of you.
My teenager won't talk to me. Can I bring my kid in and then you tell me everything that is going on for them?
Legally, as a parent of a minor, you can have access to your teen's records/and can ask me questions. I ask parents to agree verbally at the beginning of their teen's therapy to only talk about them in front of them, in session.
If I am worried about a safety issue, I will tell your adolescent, "Hey, this is something we need to talk to one of your parents about; let's invite them in from the lobby." Or we'll call you on speaker phone. Of course, my goal is always to help kids and parents get along better/communicate more – so I encourage this when doing individual therapy with all my teens.
Why don't you accept insurance?
I was an insurance provider for many years. Gradually it became more of a burden and took more time and energy to work with insurance billing.  Often, a person has insurance benefits, but their mental health benefits are managed by a different company.  Attempting to navigated the myriad of credentialing and billing options for each person became almost a full time job. By not accepting insurance, I have more time to devote to focusing on quality of care, preparing for sessions, reading, going to trainings. I have more energy to focus on what I love, which is working with people. I understand that not everyone can afford more than a co-pay for counseling. I was in that boat at one time also. Luckily there are still many insurance accepting therapists out there. If you need a lower cost alternative, I would recommend calling your insurance company or going to their member website to find contact information for insurance providers in your area (but be aware, often these directories are out of date and inaccurate). 
Privacy is another concern. In order to bill insurance, a therapist has to give you a diagnosis. Many people were uncomfortable with this. While legally an insurance company can't share that information with your employer, and currently you can't be denied insurance because of a pre-existing condition, it is difficult to predict how health care laws might change in the future.  On top of this, insurance companies are doing more and more auditing of mental health providers.  Whereas 20 years ago it was uncommon, more often now, therapists to have to send notes or reports to an insurance company to prove that they are actually providing a needed service. Not only is this stressful and time consuming, it is also uncomfortable for clients not knowing who is looking at their private information or what is being done with that. 
On a practical level, more and more people have larger deductibles that they must reach before insurance kicks in.  I began to find that for the first few months of every new client's treatment, I had to spend a great amount of time keeping track of how much people owed on their deductibles. Also, people would feel deflated thinking that their insurance would cover mental health, only to find out that it would – after 23 sessions.  Not taking insurance eliminates any of this confusions.  And again, everyone's insurance company dealt with deductibles differently. In short, if you have a deductible of $3600 and therapy is going to cost you $1500, you don't get to use your benefits anyway (but the therapist still has to spend hours figuring that out). 
Reimbursement.  When I began my first private practice almost twenty years ago, I was happy with what insurance companies were willing to pay me.  They almost always paid me without a hassle. Gradually the health care system became more complicated and insurers focused on finding ways to cost cut.   Mental health providers have not seen rate increases, for the most part, for decades. The average reimbursment for a psychologist in 1975 was about $100, and that is what it is today through insurance. In some cases my reimbursement has even gone down, but in almost every case, I was being paid the same as I was when I started. If you hadn't had a raise in 17 years, you would probably find a way to do business differently also.  I completely understand that I am not the best therapist for everyone, and not affordable for everyone. I literally gave away my services for many years. You can find others who will do that now as well, just ask. What I have found is that when people make a solid investment in themselves, they get more out of therapy, they feel better and accomplish goals more quickly.  
I have chronic pain issues – will working with you reduce my pain?
I have been working with people with chronic pain since the beginning of my career. There are a lot of strategies that we can work on together that can help you cope with pain more effectively.
There are some things you can learn that may reduce your pain level, but this is not true for everyone.
Chronic pain therapy involves finding ways to live with pain so that it does not dominate your life. Think of it as learning to have a fulfilling life that also includes pain. I'm not a drug treatment center or an addictions counselor. I don't help people get off opioids. However, if you have been through treatment and want support in how to cope without pain killers, I can help you with that.